10 of the world's most beautiful national parks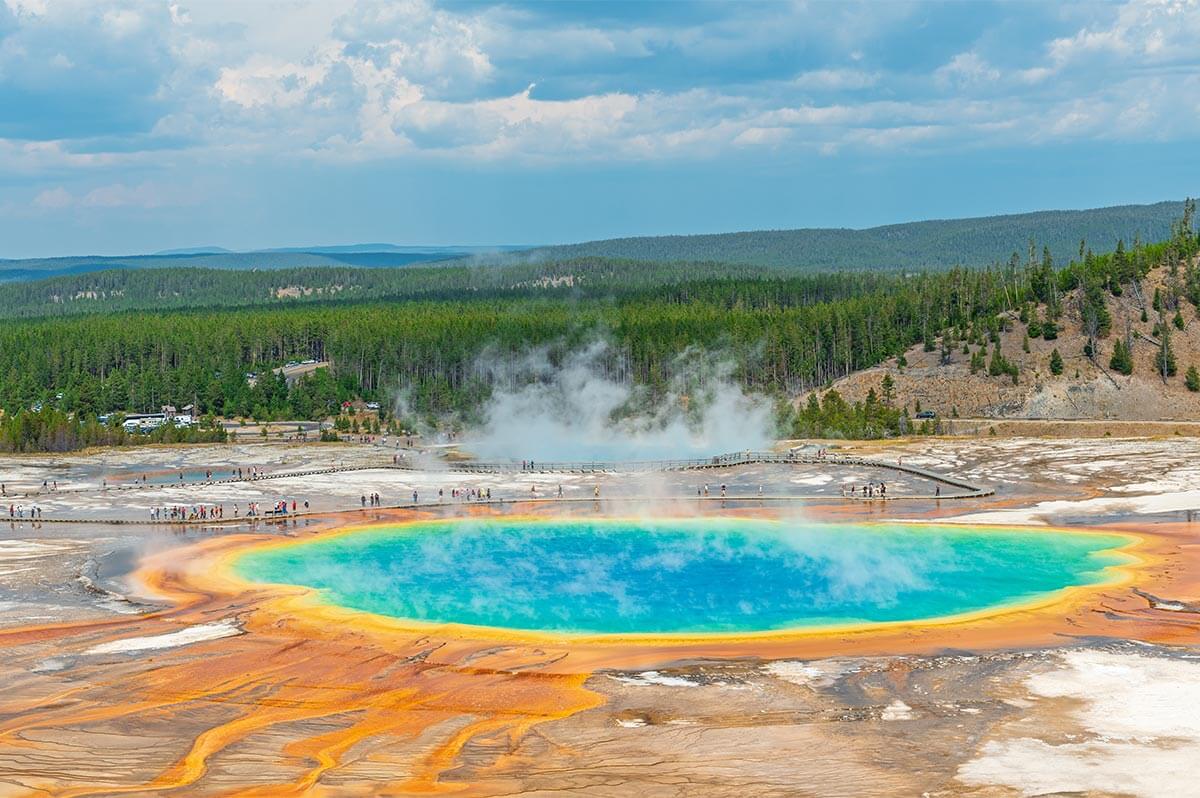 Though figures vary, it is estimated that the world has a total of about 6,000 national parks in about 100 different countries! Travelers from all over the world are privileged to experience these amazing habitats and the precious wildlife that inhabit them. Here are ten of the world's best national parks: 
#1 – Yellowstone National Park, USA 
Established in 1872, vast and superbly scenic Yellowstone is America's oldest park. Located in Wyoming, Montana and Idaho, its 2,221,766 acres include lakes, waterfalls, mountain ranges and, of course, its famous geysers. The Park has close on 300 bird species that include bald and golden eagles, peregrine falcons and ospreys. Its 67 species of mammals include black and grizzly bears, deer, elk, moose, bison, bighorn sheep, Canada lynx, cougars, and coyotes.
#2 – Sagarmatha National Park, Nepal
Located in the breathtaking Himalayas, Sagarmatha National Park is home to Everest, the world's tallest mountain at 29,030 feet. The Park  features glaciers, deep valleys, characteristic high-altitude flora, mountain villages, Buddhist monasteries, and its conservation-conscious Sherpa culture. The wildlife found here includes black bears, musk deer, red pandas, tahrs, wolves, and rare, beautiful, and elusive snow leopard. Its 208 bird species include the colorful impeyan pheasant and the near-threatened bearded vulture.  
#3 – Namib-Naukluft National Park, Namibia
This unique Park, along the Atlantic Ocean, has the oldest desert in the world, the Namib, at the heart of it. Exploring the Naukluft is best done with a 4×4 car hire. The Park's diverse landscapes include mountains, canyons, gravel plains, towering, orange-colored sand dunes, salt and clay pans, as well as mudflats, wetlands, and lagoons closer to the sea. These attract multitudes of birds including vast flocks of flamingos. Its wildlife includes gemsbok, zebra, springbok, ostrich, giraffe, reintroduced black rhino, hyena, cheetah, jackal, caracal, leopard and raptors. Succulents, lichens, grasses, and the famous welwitschia thrive here. 
#4 – Hornstrandir Nature Reserve, Iceland
Also sometimes referred to as Europe's last wilderness, Hornstrandir is pristine and remote with breathtakingly beautiful landscapes, mountains, the huge Drangajökull glacier, waterfalls, hidden hot springs, and towering cliffs. The Reserve is a crucial stronghold for the protected Arctic fox, as well as seals, whales, Arctic terns, black guillemots and puffins. The magnificent sea eagle also thrives here. And with numerous fantastic and varied hiking trails, Hornstrandir is a paradise for hikers! 
#5 – Kruger National Park, South Africa
The visitor-friendly Kruger National Park caters to travelers with all sorts of budgets and preferences. The Park's diverse landscapes house a multitude of animal, reptile, amphibian and bird species, including the iconic Big Five. Its floral kingdom is equally diverse, with keystone species like baobab, knob thorn and marula trees dominating the different landscapes. The Park also offers many interesting activities and excursions. The wide range of accommodation options includes superb luxury lodges in the Kruger National Park. 
#6 – Corcovado National Park, Costa Rica 
This Park is one of the most biodiverse places on earth. It contains old-growth rainforests, mangrove swamps, cloud forests, palm groves, lowland forests, and endless beaches. Its prolific wildlife includes tapirs, ocelots, pumas, giant anteaters, and howler, spider and capuchin monkeys. There are harpy eagles, great tinamou, silky anteaters, poison dart and glass frogs, numerous snakes, as well as leatherback, green and olive ridley turtles. Likewise quetzals, macaws, boa constrictors, peccaries, mountain lions, jaguars, and bull sharks! Wow!
#7 – Swiss National Park, Switzerland
This lush alpine landscape offers visitors 50 miles of diverse hiking trails to explore the gorgeous Alpine terrain. Animals include the horned chamois, ibex, foxes, marmots, snow voles, red deer, mountain hares, squirrels, gray wolves, and even a few brown bears. A single snake species, the venomous but non-aggressive northern viper, lives here, as do golden eagles, griffons, harriers, kites, sparrowhawks and bearded vultures. The Park's impressive bird list includes nutcrackers, ducks, grouse, cuckoos, swifts, wood pigeons and ptarmigan.
#8 – Kakadu National Park, Australia
This is Australia's largest park and is listed as a UNESCO World Heritage site both for its environment and its living Aboriginal culture. The Park boasts spectacular wetlands, waterfalls and rainforests. Its animals include wallabies, snakes, turtles, wallaroos, flying foxes, bandicoots, river sharks, termites and quolls. Add its 280 bird species and whopping 10,000 crocodiles, and you can see why this park is regarded as a national treasure! 
#9 –  Fiordland National Park, New Zealand
Fiordland is part of the Te Wāhipounamu wilderness area which is a UNESCO World Heritage site. The Park's 1.2 million pristine hectares include rainforests, rivers, lakes, fiords, towering cliffs, and vast snow-topped mountains. Its unique wildlife dates back to when New Zealand formed part of that ancient supercontinent, Gondwanaland. The unique species found here include the critically endangered kakapo, takahe, kiwis, and crested penguins.  
#10 – Iguazú National Park, Argentina
Famous for the overwhelming beauty of its waterfalls, the Iguazú National Park comprises mostly rainforest and rivers like the vast and famous Paraná. The Park boasts a staggering 2,000 plant and 400 bird species! Its diverse wildlife includes coatis, jaguars, jaguarundi, toucans, tapirs, anteaters, ocelots, tirica, guans, harpy eagles and caimans. Numerous hiking trails and viewing platforms make it easier to explore and experience this magical habitat. 
The establishment of national parks signals a nation's commitment to conservation and its respect for the natural world. For travelers, these places are wonderful oases to restore body and soul in a stressful world.